FORTHCOMING EVENTS

MIDNIGHT ELEGANCE 2018 Dinner & Dance
31st December 2018
Hendon Hall Hotel
Ashley Lane
London
NW4 1HF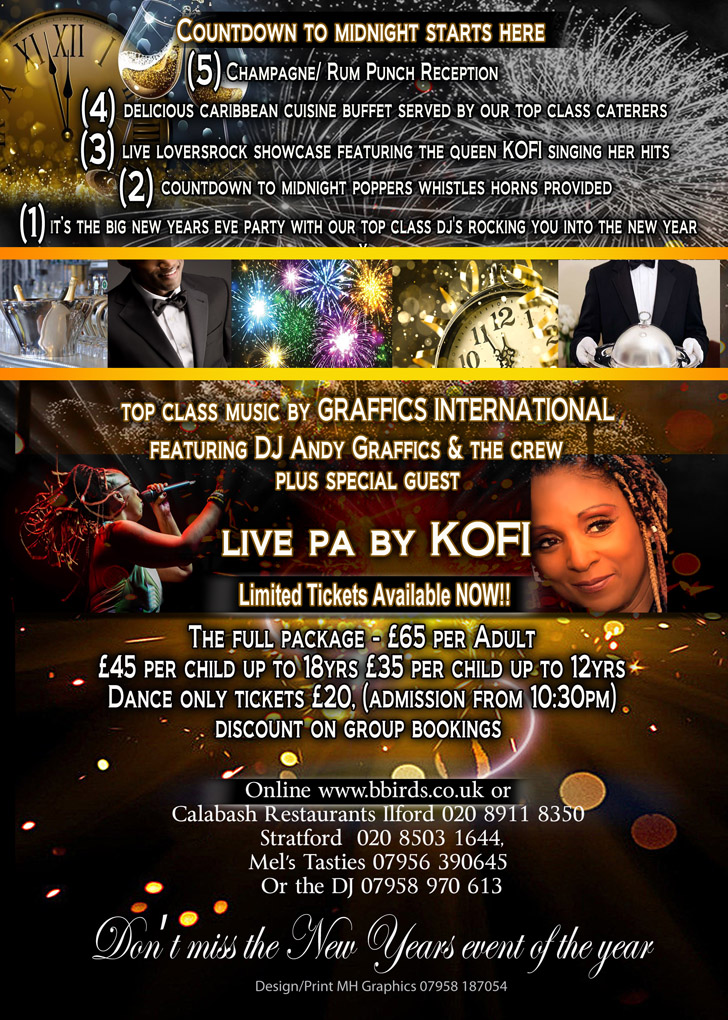 This YEars ENTERTAINMENT:
KOFI
Kofi first found success as a member of the Lovers rock trio Brown Sugar (which also featured Caron Wheeler and Pauline Catlin). The trio enjoyed unprecedented success, topping the UK reggae charts on three occasions. Brown Sugar's first chart-topper in 1977, "I'm in Love With a Dreadlocks", was also the first release on the new Lover's Rock record label formed by Dennis Harris, John Kpiaye and Dennis Bovell. The record label title became the adopted definition for the genre of music.. Live at The Giants of Lovers Rock event October 2012

Following the demise of Brown Sugar in the mid-1980s, Simms, under the moniker of Kofi, embarked on a solo career, initially with Mad Professor and releasing three albums on his Ariwa Sound label.[1] She had hits on the British reggae charts with the reworking of Brown Sugar songs "I Am So Proud", "I'm in Love With a Dreadlocks" and "Black Pride", with new songs such as "Didn't I" (on which Kofi also played bass guitar), "Looking Over Love", and with a version of Alton Ellis' "I'm Still in Love with You", a duet with John McLean.[1][2] "Proud of Mandela", a version of The Impressions' "I'm So Proud", a collaboration with Macka B, topped the British reggae charts in 1990.[3][4] The 1988 British Reggae Industry Awards ceremony saw Kofi winning the awards for "Best Female Vocalist" and reaching number one with the songs "Didn't I" and "Black Pride". Kofi went on to achieve further awards in 1989, establishing her status as one of the queens of Lovers rock.
PHOTOGRAPHY
Capture the moment with instant pictures of you and your loved ones and bring in the new year with a smile, indulge yourself with our fantastic in house photography service presented to you by the classy www.rudyhardingimages.com.
YOUR EXCLUSIVE INVITATION TO HELLO GORGEOUS STUDIOS
Hello Gorgeous Studios ( www.hellogorgeousstudios.com ) will give all attending the event an Exclusive Invitation to their studio in Croydon ( just 15mins from London Bridge and Victoria mainline stations ), for your Hello Gorgeous Photography Day which will include: Cocktails, Makeup and Hairstyling, File and Polish, Photoshoot with upto 4 outfit changes, a FREE 10x8print of your choice, and also a £5 off beauty treatment.
Hello Gorgeous Studios will be donating 20 Gift Vouchers to the organisers of Midnight Elegance to raffle or give out as gifts on the big night!
THIS IS YOUR ENTERTAINMENT PACKAGE PRESENTED TO YOU WITH STYLE & ELEGANCE
HAPPY NEW YEAR TO YOU YOUR FAMILY, FRIENDS & LOVE ONES
THE BLACKBIRDS TEAM.